May 10, 2018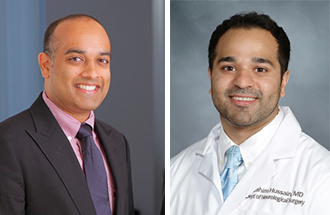 Alvina and Willis Murphy Assistant Professor of Neurological Surgery Rohan Ramakrishna, M.D., and chief neurological surgery resident Ibrahim Hussain, M.D., were both honored with awards from the American Association of Neurological Surgeons (AANS) at the 2018 AANS Annual Scientific Meeting in New Orleans on April 28-May 2.
Dr. Ramakrishna was awarded the Byron Cone Pevehouse Young Neurosurgeon Award, which recognizes the best socioeconomic abstract submitted by a neurosurgeon within just a few years of completing his or her residency.  For this project, conducted in conjunction with Center for Comparative Effectiveness Research at Weill Cornell Medicine, Dr. Ramakrishna studied the influence of annual and cumulative surgical volume on patient outcomes. Results indicated that cumulative surgical volume, as well as annual volume, were significant predictors of patient outcomes. These findings suggest that sub-specialization within practices and academic centers – which increase both volume and experience in specific neurosurgical procedures – is an important factor in optimizing patient outcomes.  This work was funded as part of the Empire Clinical Research Investigator Award (ECRIP) program.
Dr. Ramakrishna was also honored with the Preuss Award, which recognizes the best basic science research paper presented.  Dr. Ramakrishna collaborated with Dr. David Pisapia from Neuropathology on a project that studied the exome landscape of astrocytic gliomas. Their research showed that gliomas harbor mutations in many previously undescribed regions that affect survival outcome in both low- and high-grade gliomas. In addition, they showed that germline alterations in cancer genes are quite common and need to be assessed routinely in patients who undergo precision oncology testing that serves to individualize cancer therapies.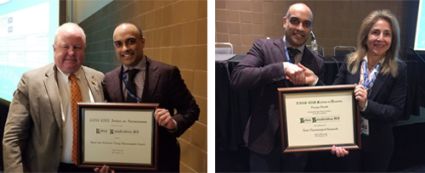 Dr. Ramakrishna's research interests have led to new clinical trials and outcome measures to advance the care of brain tumors. He has published and spoken extensively on these topics and has received multiple awards, including prestigious training and research grants from the NIH and the Fred Hutchinson Cancer Consortium. He is currently the PI on a new clinical trial for recurrent glioblastoma. (See video about that new trial, CAPTIVE.)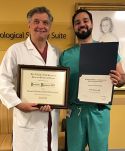 Chief resident Ibrahim Hussain, M.D., has received nation and international recognition for his collaborative work through the labs of Dr. Roger Härtl, chief of spine surgery at the Weill Cornell Medicine Department of Neurosurgery, and Dr. Larry Bonassar in the Department of Biomedical Engineering at Cornell University. Their project, titled "Mesenchymal Stem Cell-Seeded High-Density Collagen Gel for Annular Repair: In Vivo Sheep Study," was awarded the 2018 AANS Stewart B. Dunsker, MD, Award, which recognizes the most compelling spinal clinical research project presented to the Annual Scientific Committee, as well as the AANS/CNS Joint Spine Section's Charles Kuntz IV Scholar Award for the one of the top 20 projects in the spinal neurosurgery field this year. Both awards are named in honor of pioneers of spine surgery who contributed immensely to the research literature. This is the second year in a row Dr. Hussain has received the Charles Kuntz IV Scholar Award for his research work in the department.
In addition to being presented at these two neurosurgical conferences in Orlando and New Orleans, this work was also recently selected for oral presentation at the Global Spine Congress in Singapore, the largest international meeting of spine surgeons in the world.
The work highlights the potentially groundbreaking development of a novel stem-cell based, riboflavin cross-linked hydrogel that can prevent recurrent lumbar disc herniations when delivered at the time of surgery. Preliminary results in live, large animal sheep models show that it is superior to a similar acellular formulation as well as no treatment at all, which is the current standard in human discectomy surgeries. Longer-term studies are ongoing, with the hope that the gel can soon be transitioned into human clinical trials.
More than 1,500 abstracts from around the country were submitted for presentation at the 2018 AANS Annual Scientific Meeting. The award winners were noted to have gone above and beyond the requirements and were selected for their distinguished contributions to their respective field of study.