April 20, 2020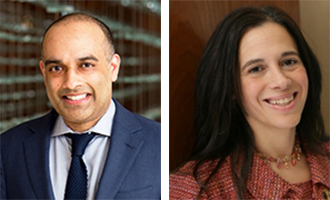 Two neurosurgical faculty members at Weill Cornell Medicine have published academic papers focusing on the impact of COVID-19 on neurosurgical and radiosurgical procedures in the midst of this public health crisis. 
Dr. Rohan Ramakrishna's paper, titled "Inpatient and outpatient case prioritization for patients with neuro-oncologic disease amid the COVID-19 pandemic: general guidance for neuro-oncology practitioners from the AANS/CNS Tumor Section and Society for Neuro-Oncology," was e-published in the Journal of Neuro-Oncology on April 9, 2020.
Dr. Ramakrishna's paper addresses COVID-19's strain on medical resources and the resulting de-prioritization of elective medical care. To that end, he discusses how best to manage neuro-oncologic diseases such as gliomas, metastases, and other lesions during the pandemic when health care resources are limited. "Striking the balance between the sudden influx of COVID-19 cases and existing, urgent neuro-oncology cases has been a challenge," notes Dr. Ramakrishna. "But these proposed frameworks are important in providing care for patients with neuro-oncologic diseases during this unprecedented time."
Dr. Pannullo's paper, titled "Clinical Considerations in Neurosurgical Radiosurgery in the Time of COVID-19," was published on Cureus on April 14, 2020. "So much is unknown about this virus," says Dr. Pannullo. "It is important that we create and document protocols needed for optimization of management and protection of patients and health care workers in this extraordinary time."
Dr. Pannullo's paper discusses the challenge COVID-19 raises in the radiosurgical treatment of patients with neurosurgical conditions. She uses the experience of working at a large academic medical center as a lens for interpreting the issues specific to radiosurgery. 
In related projects and publications, Dr. Pannullo is working to chronicle medical student experiences in these challenging times, provide research support for her institution's many COVID and non-COVID clinical trials and support communications between faculty and institutional leadership as they confront the COVID-19 pandemic.