November 29, 2016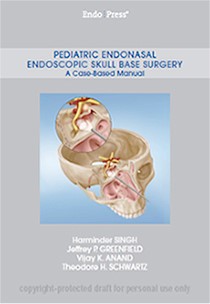 Dr. Theodore Schwartz and Dr. Jeffrey Greenfield have joined with Dr. Harminder Singh and Dr. Vijay Anand on a new professional text to guide surgeons through the endoscopic removal of skull base tumors in children.
The new text, "Pediatric Endonasal Endoscopic Skull Base Surgery: A Case-Based Manual," is a practical guide to endoscopic management of pediatric pathology. The manual will provide surgeons with the information they need to perform this advanced surgery.
Endoscopic visualization has been shown to improve patient outcomes, with a greater portion of a tumor resected when compared with other methods, as well as decrease the length of hospital stays after surgery. The authors have become leaders in the field, extending availability of this minimally invasive procedure to pediatric patients.
Surgeons may request a free copy of the book from Karl Storz by clicking here.