Drs. Schwartz and Souweidane Speak at AINAS II in Cairo
You are here
Drs. Schwartz and Souweidane Speak at AINAS II in Cairo
Dr. Theodore Schwartz and Dr. Mark Souweidane recently presented at the Second Annual International Congress of the Neurosurgery Department of Ain Shams University (AINAS II) in Cairo. The international meeting, which was organized by the university in collaboration with the Egyptian Society of Neurological Surgery (ESNS), brought together experts from Egypt, Saudi Arabia, Germany, South Korea, Finland, the United Kingdom, and the United States to bring advanced endoscopic neurosurgical training to local surgeons.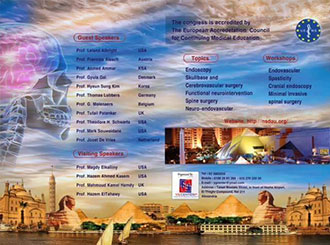 Dr. Schwartz lectured on endoscopic surgical approaches to craniopharyngiomas and other skull base tumors, and Dr. Souweidane presented on surgical approaches to pineal region tumors as well as the nuances of endoscopic colloid cyst resection. Dr. Souweidane also led a workshop in endoscopic procedures involving the third ventricle.
The workshops and scientific meeting were conducted from April 6 through 8 at the Intercontinental City Stars in Cairo. Drs. Souweidane and Schwartz were invited to the conference by Dr. Assem Abdel-Latif, who last year completed a pediatric neurosurgery fellowship here at Weill Cornell.