September 18, 2013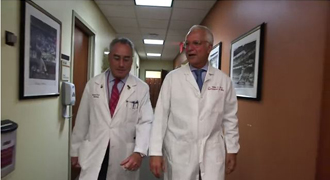 Thanks to a generous gift from the Mortimer Sackler Foundation, the NewYork-Presbyterian/Weill Cornell Medical Center has created the Sackler Brain and Spine Institute at its East 68th Street facility. The new Sackler Brain and Spine Institute brings together neurological surgery, neurology, and all the related medical fields a patient might need when being treated for a disease or condition of the brain or spine.
The institute will be co-directed by Dr. Philip Stieg, neurosurgeon-in-chief, and Dr. Matthew Fink, neurologist-in-chief at NewYork-Presbyterian/Weill Cornell Medical Center.
Watch a video about the new Sackler Brain and Spine Institute
The new facility will be based in a redesigned and renovated second floor of the hospital, which will be remodeled into a layout that enhances the teamwork critical to excellent patient outcomes. In this "hospital within a hospital," experts at multidisciplinary case conferences will review each patient's history, symptoms, and diagnosis to develop the very best plan of care. Researchers will investigate new treatment options and approaches in order to bring the latest in surgical and medical developments to the bedside as quickly as possible. The sixth floor of the Starr Pavilion will also be remodeled to upgrade the neurosurgical and neurological clinical areas.
"People do amazing things," says Dr. Stieg. "But it's the infrastructure that allows us to do these amazing things. This is the perfect format, where we can apply all the most advanced principles in medicine."