Score! Three 20th Anniversaries in Neurosurgery
You are here
Score! Three 20th Anniversaries in Neurosurgery
Today the Department of Neurological Surgery honors three outstanding team members, all of whom are marking their 20-year anniversaries with us. Kimberly Salvaggio, MSN, FNP-BC; Kristin Strybing, MS, FNP-BC; and Suzan Wollard, MMSc, PA-C, all joined the team within a few months of one another between late 2001 and early 2002, during a period of extraordinary growth in the department. Two decades later they are three of our most valued team members, continuing to provide excellent care to their patients and now also offering mentorship and advice to more junior members of the team.
When Dr. Philip E. Stieg was recruited to Weill Cornell and NewYork-Presbyterian in the year 2000, his first assignment was to build a new department. Formerly a division of the Department of Surgery, the new Department of Neurosurgery grew quickly, from a handful of neurosurgeons and support staff in 2000 to more than 30 world-class neurosurgeons today, supported by more than 100 physician assistants, nurse practitioners, nurses, medical assistants, and administrative staff who collaborate to ensure top-notch care for patients. There have been many changes over the past two decades, but the excellence of care and spirit of innovation have remained the same.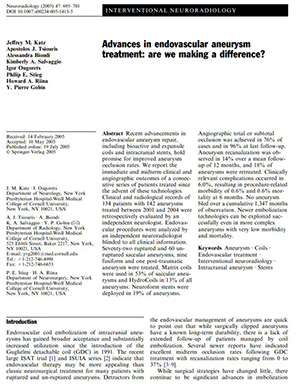 2005: Within a few years of joining the department, Kim had started co-authoring peer-reviewed papers on INR topics.
Kim Salvaggio joined the department in 2001, working with Dr. Y. Pierre Gobin in establishing an interventional neuroradiology (INR) practice within neurosurgery. It was an exciting time in neurosurgery, as emerging technologies such as intra-arterial clot retrieval were allowing more patients to undergo lifesaving minimally invasive procedures. Kim spent her first weeks training on the Columbia campus, since Weill Cornell didn't have the INR equipment yet. She remembers her first week on the Weill Cornell campus with a mix of emotions, however, since she had only been on the job for a few days when the news broke about the World Trade Center attacks on 9/11. "Dr. Gobin and I were on Baker 22, setting up the INR practice, when we received a call giving us emergency privileges to treat anyone from the World Trade Center site," she recalls. "The reality was that no one arrived at NewYork-Presbyterian, and we left to go home ourselves."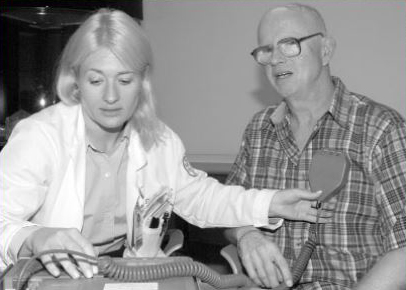 2002: Kristin Strybing works with one of the first patients to be programmed for deep brain stimulation.
A few months later, Kristin Strybing was hired to support the practices of Dr. Michael Kaplitt and Dr. Theodore Schwartz. "There were very high expectations for clinical excellence and care coordination," she says, "but Dr. Kaplitt and Dr. Schwartz had not yet worked with a nurse practitioner so we developed my role together." NP programs had started to proliferate across the United States in the 1980s and 1990s, but these highly trained professionals were still a bit of a rarity in outpatient surgical practices. Recognizing the value of the NP level of expertise, and their ability to treat patients separately under the supervision of MDs, Dr. Stieg set out to staff his faculty practices with these advanced providers.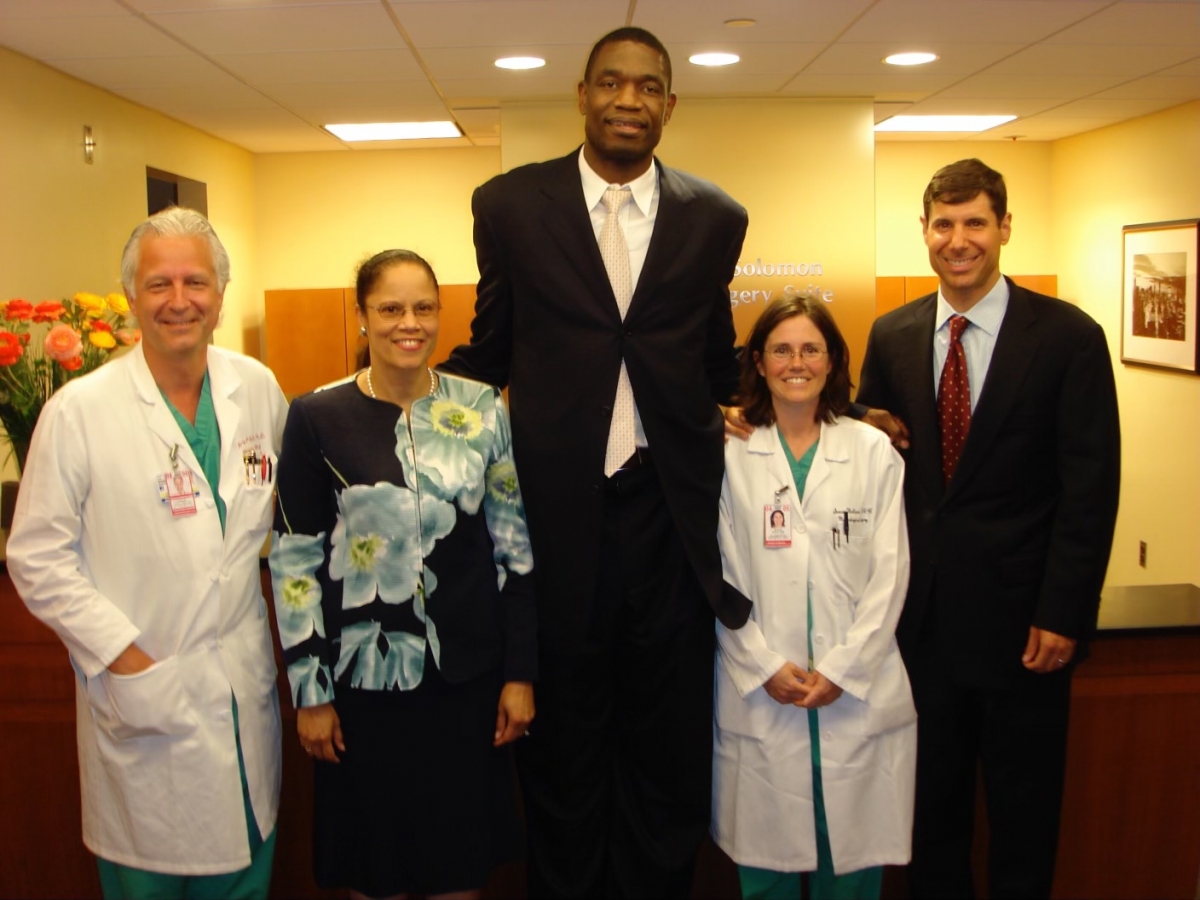 2006: NBA star Dikembe Mutombo visited our offices to meet with his fellow Hoya Suzie Wollard to talk about his new hospital in his native Democratic Republic of Congo. Joining him in this photo are (l-r) Dr. Stieg; Mireille Kanda, MD, MPH, senior medical advisor to the Dikembe Mutombo Foundation; and Suzie her husband, Scott.
In February of 2002, Suzan Wollard joined the team as a physician assistant. PAs work in many settings, including providing front-line care to our hospitalized patients before, after, and during  surgery. Suzie had an unforgettable first day: "Within a few hours of my arrival I rounded with Dr. Stieg, who handed me a small piece of paper with some scarce information on it. He told me we had an emergent transfer, a subarachnoid hemorrhage, and asked me to ensure the patient was here within the hour. Then he made his way to the operating room. As panic set in, I quickly educated myself on emergency systems and hospital operations. The patient made it here in an acceptable time frame and I hadn't lost my job on the first day!"
All three of these advanced practice providers agree that growth and change have been remarkable over the past two decades. Medical records have moved from paper to electronic, images that were once on film held up to light boxes are now viewable on a computer screen, and the surgical procedures themselves have grown less and less invasive. Our physical locations have changed as well, from one small office with a few exam rooms in the Starr Pavilion to multiple locations. The ninth-floor Brain and Spine Center in the Weill Greenberg Pavilion at 1305 York Avenue is an expansive, high-tech office with plenty of space for patients and providers; the Center for Comprehensive Spine Care on 59th Street offers integrated care for spine patients, with treatment rooms as well as exam rooms; and that tiny INR division that Kim helped get started in 2001 now occupies its own space in a dedicated INR suite, with three advanced procedure suites and control rooms in addition to a large recovery space. Suzie fondly remembers the "resident room in a closet" – thankfully, a 2013 office renovation earned residents an updated, always-busy workroom where they and the PAs can confer and plan for patient care.
They also agree that what has not changed is the spirit of collaboration and the dedication to improving patients' lives. Kim cites the "passionate care and hard work of our neurosurgical team" as the reason why she's remained here all these years, praising the "respect and camaraderie I have with my fellow physicians and colleagues within the neurosurgical department and NewYork-Presbyterian." Kristin says "the ability to help patients, to continue to learn and watch and be a part the growth of staff, residents and faculty" has kept her committed to the department. Suzie notes that "the unending ability to mentor others has kept me here. I love teaching and providing opportunities for others. I have mentored so many interns, residents, fellows, physician assistants, students, and volunteers. At the end of the day, even a stressful day, you can always find a positive contribution you have made. You just have to look for it and appreciate the difference it makes."
The past twenty years have made big differences in their personal lives – they now talk about spouses and children and the challenges and rewards of balancing personal and professional lives. Their lives today are much more complicated than they were back then, they agree, but the rewards of their roles here remain.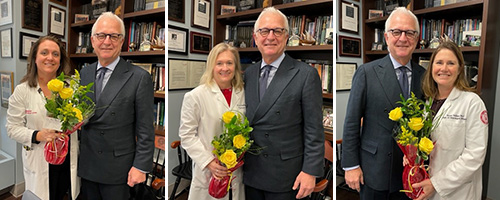 2022: Kim Salvaggio, Kristin Strybing, and Suzie Wollard with Dr. Stieg
Today Kim continues to work with Dr. Gobin in INR, participating in extraordinary growth of the interventional sub-specialty. Throughout the years she has presented cerebral aneurysm data at numerous meetings and has been a named co-author on peer-reviewed articles with the retinoblastoma team. Dr. Gobin's pioneering work developing intra-arterial chemotherapy for pediatric patients with retinoblastoma has saved the vision and eyes of hundreds of children, and Kim is particularly proud to be a part of that. Caring for patients is the most gratifying part of her job, she says. "Many people still write, call, and send well wishes of gratitude for how we cared for them during a very difficult time in their lives," she says.
Kristin is now the chief nurse practitioner, supervising all of the outpatient advanced practice providers in the much-expanded department. She also continues to support Dr. Michael Kaplitt in his movement disorders practice, and has been gratified by advances in that field, including the introduction of focused ultrasound for essential tremor. "Helping patients and seeing their quality of life change" has kept Kristin dedicated to her role here despite the ongoing challenges of managing a large team of APPs and a very busy operative schedule.
Suzie is now chief physician assistant of neurosurgery and neurology, with five senior physician assistants helping her manage the busy inpatient practices. "In the beginning I focused all my energies on providing exceptional patient care even in the most difficult situations," she says. "Now I mentor others to provide this level care.  I have so many different teams that I work on, and I thrive on the possibilities that each group brings to the patient experience. I have a profound appreciation for the patients we take care of, the challenging situations they are facing, and the role we play in that relationship."
We all have tremendous appreciation for the skills, compassion, and dedication these three remarkable professionals have brought to our team over the past 20 years. Is it too much to hope for 20 more?
Congratulations and thank you to Kim, Kristin, and Suzie!