September 13, 2023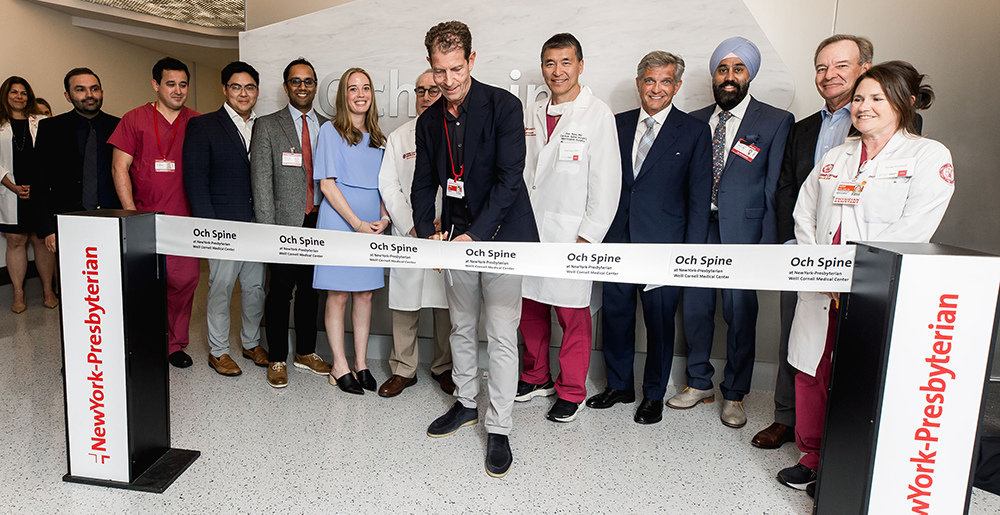 A world-class new hospital unit dedicated to spine patients has opened on the second floor of NewYork-Presbyterian/Weill Cornell Medical Center, thanks to the generosity of the Jane and Daniel Och Family Foundation. The new unit features all single-occupancy rooms, where patients will be cared for by spine specialists that include physician assistants and physical therapists in addition to bedside nurses.
Och Spine at NewYork-Presbyterian is an innovative multi-campus initiative that provides patients with spine specialists who provide a full spectrum of care, from pain management to rehabilitation medicine to the very latest in minimally invasive surgery by internationally renowned neurosurgeons and orthopedic surgeons. For patients who require hospitalization, the new spine unit offers advanced technology and personalized care to make the experience as comfortable as possible.
The neurosurgeons and orthopedic spine surgeons on the Weill Cornell Medicine faculty use the most technologically sophisticated instruments and software to provide a full spectrum of surgical solutions for back pain. Our team recommends surgery only as a last resort after conservative measure have not been effective and will always opt for the least invasive approach possible. Our experts have been leading the field in the development of minimally invasive, ultra-minimally invasive, and complex surgical techniques for the treatment of scoliosis, spinal tumors, degenerative spine disorders, and spinal trauma.
The new Och Spine unit officially opened its doors on August 8, 2023, with a ribbon-cutting ceremony that thanked the Ochs for their generosity.
Och Spine Unit Opens on 2N