November 5, 2018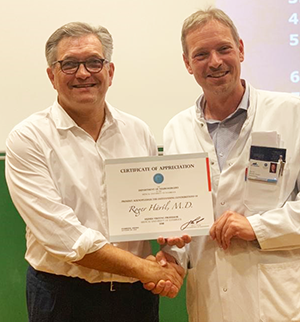 In late 2017, Dr. Roger Hartl and Dr. Claudius Thome were awarded the American Austrian Foundation's 2017 Humes Visiting Professorships. The professorships are a bilateral exchange in which two distinguished course directors present at each other's institutions. Dr. Hartl visited the Medical University of Innsbruck in Austria on September 28,2018, to give his lecture. Last week Dr. Thome presented a Grand Rounds guest lecture at Weill Cornell, completing the exchange.
The Humes Visiting Professorships are made possible by a bequest from Dr. Jean Humes in memory of her husband, John P. Humes, a former U.S. Ambassador to Austria and the first president of The American Austrian Foundation. A committee of experts selects the winners from among those who have co-directed a Salzburg Seminar. Since the program's inception in 1990, the professorships have been awarded in a wide range of medical specialties, from molecular biology to urology. This year's exchange is the first in neurosurgery.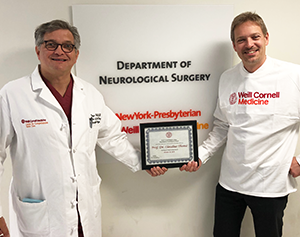 Dr. Hartl is Professor of Neurosurgery and Director of the Weill Cornell Medicine Center for Comprehensive Spine Care in New York. Dr. Thome is Professor and Chairman of the Department of Neurosurgery at the Medical University in Innsbruck, Austria. In June 2017 they co-directedthe Salzburg Weill Cornell Neurosurgery Spine Seminar, making them eligible for the Visiting Professorships.