July 18, 2019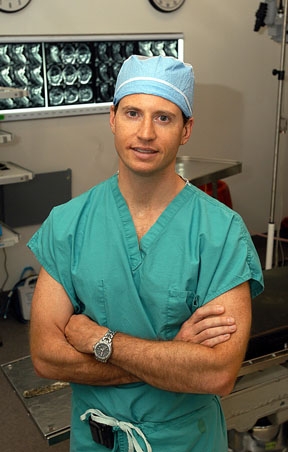 Dr. Theodore Schwartz, David and Ursel Barnes Professor in Minimally Invasive Surgery and co-director of surgical neuro-oncology at the Weill Cornell Medicine Brain and Spine Center, recently became the first surgeon at NewYork-Presbyterian Weill Cornell to use Gleolan, dubbed "the pink drink," during surgery to remove a high-grade glioma.  He has since used it successfully on half a dozen other patients undergoing surgery for glioblastoma.
News Update: Dr. Schwartz publishes results of analysis showing superior ability of the pink drink to achieve gross total resection
Gleolan, or 5-Aminolevulinic Acid (5-ALA), was approved by the FDA in 2017 after extensive testing and became commercially available in the United States in late 2018. When given orally to patients before surgery, Gleolan has a remarkable ability to pass through the blood-brain barrier and penetrate a tumor; when viewed under blue light during surgery it fluoresces as a hot pink indicator distinguishing tumor cells from healthy brain tissue around it.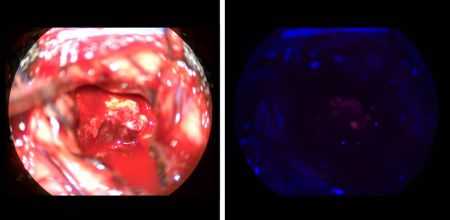 Under unfiltered light (left), a glioblastoma is virtually indistinguishable from the healthy brain tissue that surrounds it. Enhanced with Gleolan and viewed under an intraoperative microscope outfitted with a blue-light emitting filter (right), the tumor glows a hot pink, making tumor tissue easy to identify.
The ability to identify the full extent of a tumor is invaluable to a neurosurgeon during surgery to resect (remove) an aggressive tumor, particularly glioblastoma.  "Often in these tumors, we cannot tell if there are small amounts of residual tumor that is left in the brain," says Dr. Schwartz. "Those residual tumors cannot be distinguished from normal brain matter."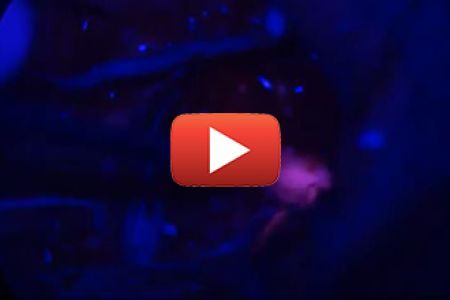 This operative video shows a glioblastoma that has been enhanced with Gleolan, as viewed under a blue-light-emitting filter.
Any tumor cells that remain in the brain can lead to a recurrence, making it critical to remove the entire tumor. The bright fluorescence allows the neurosurgeon to clearly identify the glioma and assure that all of it is excised. "In all my cases, the post-operative MRI scans showed that the entire tumor had been removed," notes Dr. Schwartz.
Gleolan requires a neurosurgeon to use an operating microscope outfitted with a blue-emitting light source and filters in order to see the hot pink color. "Using Gleolan dye and the appropriate filters, we could now see tumor cells that were previously invisible," says Dr. Schwartz. "The patients all did extremely well and were sent home in only a few days."
Dr. Schwartz is one of the nation's leading neurosurgeons and is regularly named to prestigious lists of top doctors, including New York magazine's Best Doctors in New York, New York Super Doctors, America's Top Surgeons, America's Best Doctors, and America's Best Doctors for Cancer. He is known for using state-of the-art technology — brain mapping, intraoperative imaging, and minimally invasive endoscopy — to achieve the best outcomes for his patients.
March 2021 update: New Device Produces Sharper Vision During Brain Tumor Surgery