July 12, 2019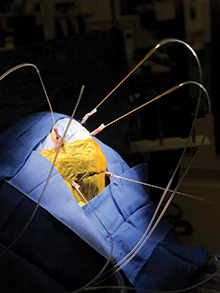 The new ROSA robot for cranial surgery recently made its highly anticipated debut this summer at NewYork-Presbyterian Weill Cornell Medicine in two surgeries a few weeks apart. In June, Dr. Mark Souweidane was the first to use the neurosurgical robot as part of a clinical trial to administer gene therapy to a child with a rare congenital disorder. In July, Dr. Theodore Schwartz became the first to use ROSA for epilepsy surgery.
Dr. Souweidane's young patient suffers from Mucopolysaccharidosis Type IIIA (MPS IIIA, also known as Sanfilippo syndrome Type A), which is caused by a mutation in the SGSH gene. The mutation in SGSH makes it impossible for the body to break down a sugar molecule called heparan sulfate. MPS IIIA is a rare, severe condition that causes cognitive dysfunction that gets worse as the child ages, behavioral problems including aggression and hyperactivity, loss of hearing and vision, and sleep disturbances.  Children with MPS IIIA rarely survive past their teen years.
In a new multi-center Phase 2-3 study, affected children are given multiple infusions of a virus carrying a corrected copy of the SGSH gene; using the ROSA robot helps ensure accuracy and shortens the surgical time by automating six surgical access routes. The infused agent is LYS-SAF302 from Lysogene; it consists of a viral vector that contains the cDNA of the SGSH gene. Weill Cornell is the only facility on the east coast, and one of only four in the United States, where this clinical trial is available.
Dr. Schwartz, the David and Ursel Barnes Professor in Minimally Invasive Surgery and Director of the Center for Epilepsy and Pituitary Surgery, has long been a pioneer in surgical treatment for epilepsy. In carefully selected patients, as many as 80 percent can be cured of seizures entirely; in other cases surgery may reduce the frequency and severity of seizures. 
The complex procedure starts with localizing the seizures to determine the precise spot in the brain where they originate. Localizing is followed by brain mapping to determine what functional areas of the brain may be affected by surgery. The availability of robotic assistance increase surgical precision on the 15 to 20 access points typical of this surgery and holds promise for improving outcomes for patients undergoing the procedure. (More about surgery for epilepsy.)
The ROSA robot was developed by the European company Medtech as a tool for precision navigation in neurosurgery. It was installed at NewYork-Presbyterian Weill Cornell Medicine in early 2019 and is expected to be used in advanced surgical procedures for epilepsy, brain tumors, and other conditions that call for maximum precision and minimal invasiveness.