Our Neurosurgery Team
You are here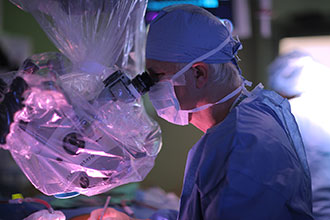 The Weill Cornell Brain and Spine Center is a world-class provider of minimally invasive surgical techniques for the treatment of the full spectrum of neurological disease in both adults and children. To ensure that every patient receives the compassion and dignity they deserve, we believe in a team approach involving neurosurgeons, neurologists, neuroradiologists, anesthesiologists, clinical professionals and nursing staff, patient care coordinators, and social workers to create the most successful outcome. Our overall goals include providing a cure whenever possible, minimizing pain, shortening hospital stays, and creating extraordinary breakthroughs in research that truly offer hope in treating the most challenging neurological diseases of our time.
Our Chairman and Neurosurgeon-in-Chief, Dr. Philip E. Stieg, is an internationally known expert in cerebrovascular surgery. He directs a clinical faculty of 24 neurosurgeons, neuroradiologists, neuropsychologists, and neuroendocrinologists, and more than 100 supporting clinical and administrative staff at multiple locations, including NewYork-Presbyterian/Queens and NewYork-Presbyterian/Lower Manhattan.
Find out more about the Department of Neurosurgery, including its Neurosurgery Residency Program, Fellowship Opportunities, CME Courses, and Research.

Full-Time Clinical Faculty
Our clinical faculty includes some of the top neurosurgeons in the world, with specialized skills in cerebrovascular disorders, brain and spine tumors, complex spinal surgery, pediatric neurosurgery, skull base surgery, stereotactic radiosurgery, and interventional neuroradiology. Find out more about the neurosurgeons of the Weill Cornell Brain and Spine Center.
Academic Publishing
Our Academic Publishing Office is headed by Dr. Michael L. J. Apuzzo, who is Editor Emeritus of the peer-reviewed journals World Neurosurgery and Neurosurgery. Find out more about Dr. Apuzzo.
Residents
Neurological surgery residency is a rigorous seven-year-long training period that guides medical school graduates through the intensive education required to become a neurological surgeon. Find out more about the Residency Program at the Weill Cornell Brain and Spine Center, and meet our current residents.
Clinical Professional Staff
Our patients receive expert care from a professional team of Nurse Practitioners, Physician Assistants, and Registered Nurses. These providers offer pre- and post-surgical care and counseling, and are available to answer health care questions from their patients. Meet the clinical professional staff of the Weill Cornell Brain and Spine Center.
Neurological Surgery Hospital Staff
In addition to the Weill Cornell Medicine clinical professional staff, the Brain and Spine Center is supported by physician assistants at NewYork-Presbyterian Hospital who are dedicated to neurosurgery patients. Our hospital staff members provide expert, compassionate care to our in-patients during their hospital stay. Meet the neurosurgery hospital staff.
Our Research Faculty and Laboratory Team
Patients never get to meet our research staff, but many of the best treatments and procedures are developed and refined by our world-class team. We have the very best in laboratory and clinical researchers, who spend all day working on the cures of tomorrow. Meet our research faculty and staff
Additional Teaching, Research, and Voluntary Staff
Weill Cornell Medical College is part of a large biomedical center extending along York Avenue between 65th and 72nd Streets on Manhattan's Upper East Side. In addition to its regular full-time staff of faculty and attending surgeons, the college is fortunate to have many distinguished MDs from Memorial Sloan-Kettering Cancer Center who have teaching and research appointments at Weill Cornell Medical College, as well as additional Weill Cornell faculty members at affiliated hospitals around the country and overseas. Meet our Additional Teaching, Research, and Voluntary Staff.