Caitlin Hoffman, M.D.
You are here
Dr. Hoffman is a board-certified neurosurgeon who specializes in the surgical treatment of epilepsy and craniofacial disorders. She also treats all pediatric neurosurgical disorders, including hydrocephalus, brain and spine tumors, intraventricular tumors, and Chiari malformations.
Dr. Hoffman sees patients at NewYork-Presbyterian/Weill Cornell Medical Center, NewYork-Presbyterian Queens, and NewYork-Presbyterian Brooklyn Methodist, and performs surgery at New York Presbyterian/Weill Cornell Medical Center and Memorial Sloan Kettering. She works with a multi-institutional, comprehensive pediatric epilepsy program at all three campuses, with current research interests involving the use of focused ultrasound in the treatment of refractory epilepsy. Her craniofacial practice involves a multi-disciplinary craniofacial program that treats complex syndromic patients collaboratively. She utilizes both open and endoscopic approaches, and is currently involved in investigating the genomics of synostosis as it relates to outcomes.
Looking for a second opinion? Dr. Hoffman can review your scans: Click here to upload your images. (If you do not have an account simply enter your email address and you will be prompted to create an account. Instructions here.)
Dr. Hoffman's administrative practice focuses on mentorship of under-served, underrepresented minority students interested in careers in medicine. She is currently developing a longitudinal mentorship tool in partnership with Mentoring in Medicine to increase matriculation and to help decrease healthcare disparities, and is a co-founder of the PrIMES Program. She is also involved in Global Neurosurgery initiatives in Tanzania, where in 2019 she performed the first-ever hemispherotomy for epilepsy in that East African nation.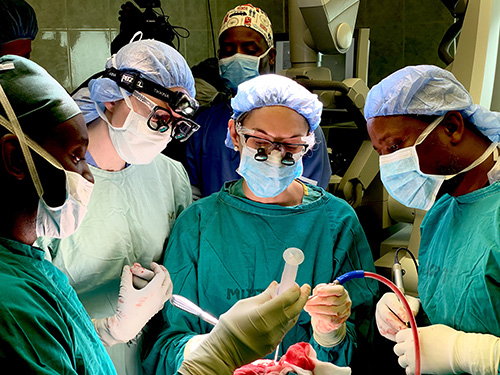 In November 2019 Dr. Caitlin Hoffman performed the first-ever functional hemispherotomy in Tanzania on a four-year-old boy with intractable seizures. Dr. Hoffman was assisted by Dr. Whitney Parker, a Weill Cornell Medicine neurosurgical resident, as well as by Dr. Japhet Ngerageza, the patient's attending neurosurgeon. The surgery was successful, and the little boy is now seizure free. (See below for video clip of the surgery.)
In Tanzania:
Leadership:
Dr. Hoffman is the co-director of the Multidisciplinary Craniofacial Program as well as the director of the Pediatric Epilepsy Surgery Program. 
Patient Stories: 
"It's Time We Step It Up", Sincere Care in Epilepsy, and "This Was Like a Miracle for Our Family"
A 'Win' Against Craniosynostosis
Watch: Dr. Hoffman was featured in this video story about a woman who needed emergency surgery to remove a blood clot from her spine — on the same day she delivered her baby girl.
In the News:
Dr. Hoffman Brings Pediatric Epilepsy Surgery Expertise to Qatar  
TRAINING
Dr. Hoffman graduated summa cum laude from Columbia University, where she was elected to Phi Beta Kappa, before receiving her M.D. from Weill Cornell Medical College. She completed a neurosurgical residency and chief residency at New York-Presbyterian Hospital/Weill Cornell Medical Center and Memorial Sloan Kettering Cancer Center, then went on to complete advanced fellowship training in pediatric neurosurgery at the Hospital for Sick Kids in Toronto.
During her neurosurgical training, Dr. Hoffman was awarded the 2013 Distinguished Housestaff Award by NewYork-Presbyterian Hospital, the 2012 Dr. Kenneth Shulman Award by the AANS Pediatric Section, and the 2011 New York State Neurosurgical Society-Resident Research Award; in 2006 she was selected for membership in Alpha Omega Alpha, the medical honor society.
RESEARCH
Dr. Hoffman has published academic papers in leading journals including Cancer Research, Nature Medicine, Neurosurgery, and Journal of Neurosurgery: Pediatrics on topics ranging from advances in minimally invasive treatment of craniofacial disorders to innovative approaches to refractory epilepsy. 
Request an Appointment | Refer a Patient
Download a PDF of Dr. Hoffman's bio